What an event! Round about 300 people met at the Holiday Inn – Am Stadtwald, Cologne. And I am sure, none of them regrets his participance.
Some of the sponsors were present with exhibition stands. For me, that was informative and useful; e.g. I took home some information about a WPF control collection which could help us to solve a problem we a currently facing in my company.
I really like these community conferences. The information given there are absolutely useful for the daily work for the speakers take their topics "from life". Additionally, it is nice to share experiences with other participants.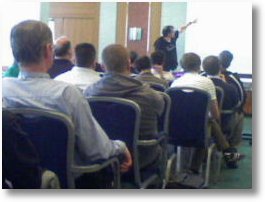 The dotnet Cologne this year was held on the occasion of the launch of Visual Studio 2010 and the .NET framework 4. So, the talks, which were organised in altogether 30 sessions and 4 tracks, more or less dealt with these two aspects. That was a quite condensed programme. Even the lunch break was used for sessions! I was this time mostly interested in parallel programming, code contracts, and some goodies of the new .NET framework.
As last year, the sessions were great due to the high expertise of the speakers! The whole conference gave you the feeling of bringing you to the technological state of the art.
What was the benefit at the end of the day? First contact to new technologies or a deeper insight into it, new programming techniques, hints for your daily work – just to name a few.
Of course, there was a raffle at the end of the conference. And you may guess right that I was one of the numerous winners – this time, it was a book.
Not only from my point of view, the conference was a great success. Thanks to the organisation team – absolutely well done (again)!